Kasetsart University Dean Visits GSA: "Sustainability is Key to a Successful Partnership"
A Kesetsart University delegation, led by the Faculty of Agriculture dean Sutkhet Nakasathien, paid a courtesy visit on 12 May to Kyoto University's Graduate School of Agriculture (GSA), to seek ways to accelerate concerted efforts between the two institutions.
The delegates first made a brief tour of tropical agriculture and crop science laboratories, offered by GSA vice dean Eiji Nawata [PDF] and professor Tatsuhiko Shiraiwa [PDF] respectively, followed by a meeting also in the presence of dean Hisashi Miyagawa [PDF].
"We are here mainly to find more opportunities to collaborate, and further develop our partnership both on the faculty and student levels," said dean Sutkhet at the outset of the meeting.
"Earlier today we gained helpful insight from Drs Nawata and Shiraiwa, about academic management from senior faculty's standpoint, for instance. Student exchange has also been very active both ways," continued dean Sutkhet, reaffirming the importance of having institutional relations to sustain and expand such mutual transfer of insight and cross-cultural experience, rather than relying on personal ones.
Concerning a major organizational transition underway at Kasetsart University, the meeting participants discussed such phases and issues as going through the presidential selection process, generating a constant stream of income, and having little control over space and facility allotment on campus.
As general topics of common interest, they also shared their views on university rankings, pros and cons of dual and joint degree programs, and increasingly diverse admission policies in higher education across the globe.
This visit was made possible by GSA international committee chair Naoshi Kondo and the University of Miyazaki professor Ryo Akashi's arrangements, as well as their networks of Thai scientists in the field.
A Brief History of Collaboration
Kyoto University and Kasetsart University have long maintained close ties, particularly since the two institutions entered into agreements for academic cooperation and student exchange in 1984. Based on this partnership, a host of collaborative studies commenced at GSA as well.
Ample opportunities for international education at GSA and Kasetsart University have also been created on the school level through: an AIEJ-UNESCO youth exchange program in 2003; a two-week course entitled "A Changing Southeast Asia: Environment, Industry and Society" offered annually since 2008 (reports from 2014, 2013, 2012, 2011); and a summer school held annually since 2013 (reports from 2014, 2013) as part of a student mobility program between the ASEAN University Network (AUN) and Kyoto University.
In 2014, GSA concluded a student exchange agreement with Kasetsart University's Faculties of Agriculture, Agriculture at Kamphaeng Saen, Fisheries, Forestry, Economics, and Agro-Industry.
Yet another milestone was achieved later that year: a GSA liaison office was established at Kasetsart University's Faculty of Forestry, as a base of collaborative research projects as well as staff and student exchange programs. Professor Mamoru Kanzaki and Dr Ponthep Meunpong, both of whom played a pivotal role in its launch, coordinate the management of the liaison office.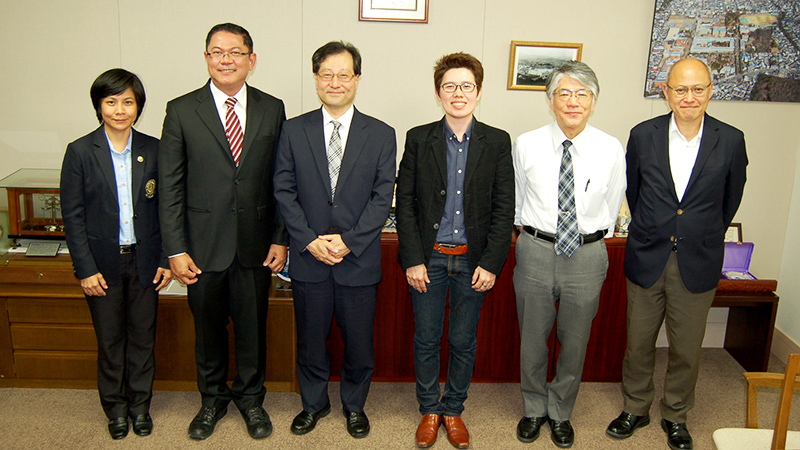 >
From left: Kasetsart University Faculty of Agriculture vice dean (for administration) Patchareeya Boonkorkaew, dean Sutkhet Nakasathien, GSA dean Hisashi Miyagawa, the Faculty of Agriculturevice vice dean (for international relations) Donludee Jaisut, GSA vice dean Eiji Nawata, and professor Tatsuhiko Shiraiwa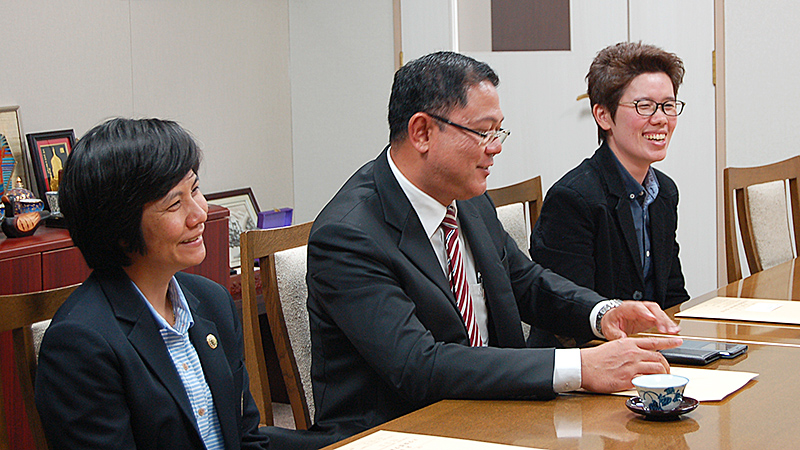 The delegates delighted at a brief presentation on GSA by Drs Miyagawa and Nawata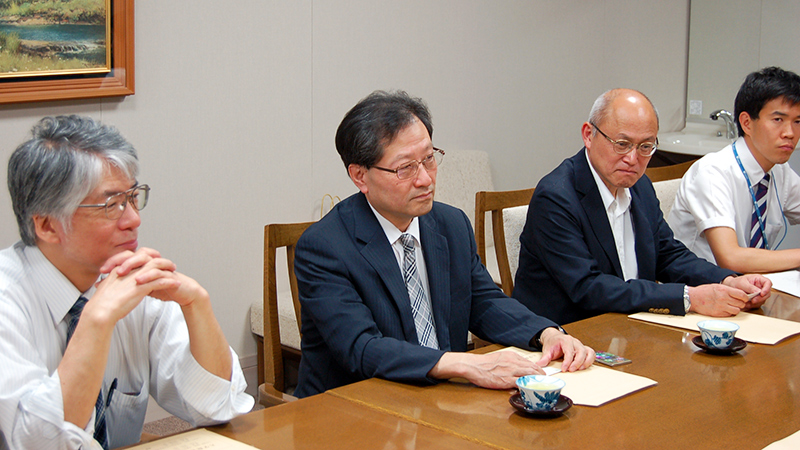 The hosts listening attentively to dean Sutkhet Nakasathien's account of current trends in Thai higher education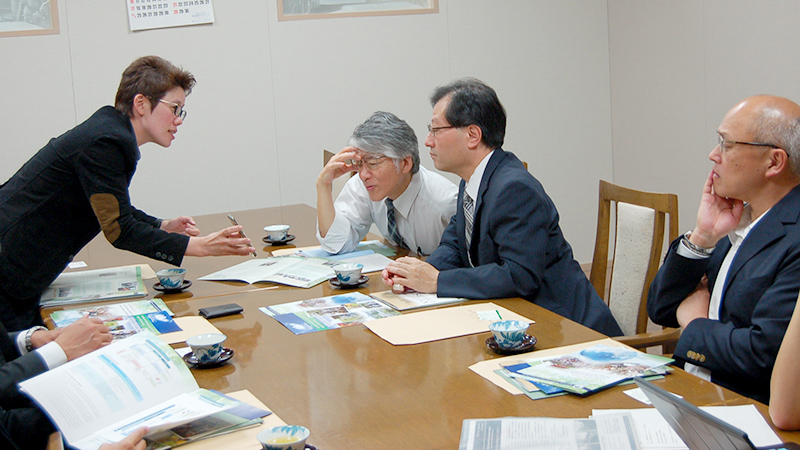 Vice dean Donludee Jaisut (left) showing photos of a soon-to-open dormitory at on campus