IITA Director General Nteranya Sanginga Meets with President Juichi Yamagiwa and GSA Dean Hisashi Miyagawa
Dr Nteranya Sanginga, Director General of the International Institute of Tropical Agriculture (IITA), visited Kyoto University on 8 April to meet with President Juichi Yamagiwa in the morning, and senior faculty of the Graduate School of Agriculture (GSA) in the afternoon.
Drs Sanginga and Yamagiwa explored the possibilities of future collaborations and joint ventures. An unexpected outcome of the discussion was a discovery that Dr Yamagiwa had conducted a field study in Bukavu-Lwiro, a village in the Democratic Republic of Congo where Dr Sanginga happened to be born and raised. "It was such a coincidence and surprise — a very pleasant one," commented Dr Sanginga on the serendipity.
In the meeting with GSA senior faculty, Dr Sanginga discussed how the two institutions could further strengthen the ties based on a memorandum of understanding for academic cooperation concluded in 2010, and what challenges to tackle.
Dr Sanginga cited insects that cause blight as a major, persistent problem in Sub-Saharan Africa. He also named the dry climate, as two-consecutive droughts are enough to bring about a critical situation.
Dr Sanginga hence identified food science and its surrounding fields of study — spanning from tropical agriculture to bioproduction engineering — as areas of collaboration to focus on.
The hosts briefed the guests on an English-taught degree-seeking program available at GSA, as well as the African Business Education Initiative for Youth, a JICA-sponsored master's degree and internship program. "Your colleagues and students at IITA are more than welcome to apply," said GSA Dean Hisashi Miyagawa.
IITA's training programs — long and short, internships and sabbaticals — were also identified as great exchange opportunities from GSA to IITA.
Following the meeting at GSA, Dr Sanginga gave a talk entitled "Repositioning IITA for Impact in Africa" in a special event organized by GSA Vice Dean Eiji Nawata and Professor Shigeru Araki of the university's Graduate School of Asian and African Area Studies (ASAFAS).
At the outset of the event, IITA plant physiologist Haruki Ishikawa said to feel free to ask questions, adding "Even if your English is not perfect, Dr Sanginga will understand" in Japanese to relax the audience. Immediately after the encouragement, Dr Sanginga asked Dr Ishikawa a genuine question: "Can you translate what you were just saying?" which established an even more relaxed atmosphere.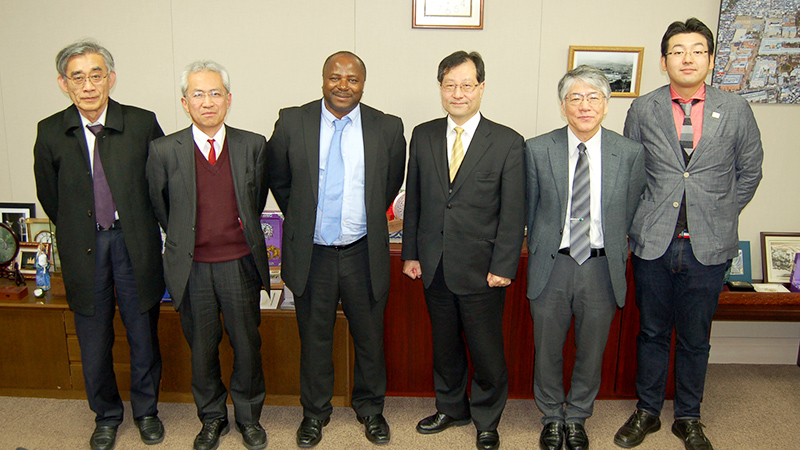 From left: ASAFAS professor Shigeru Araki, GSA international committee chair Naoshi Kondo, IITA Director General Nteranya Sanginga, GSA dean Hisashi Miyagawa, vice dean Eiji Nawata, IITA plant physiologist Haruki Ishikawa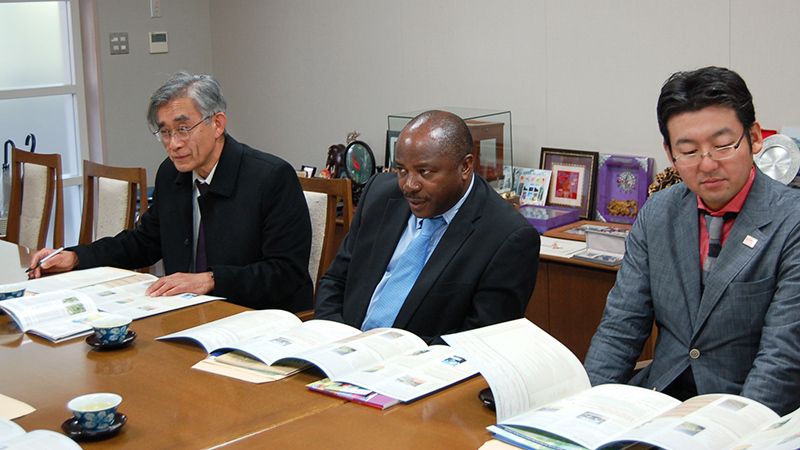 The delegates engaging in the discussion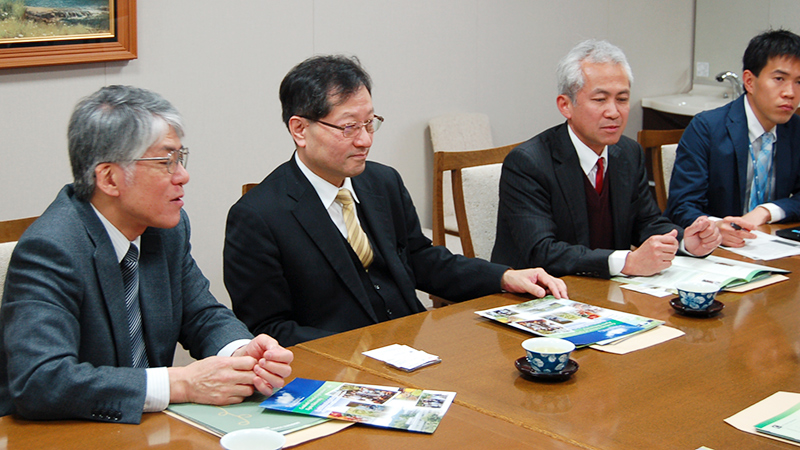 The hosts during the meeting