UPM Grant Division Head Visits GSA
A Malaysian delegation led by Universiti Putra Malaysia (UPM) Associate Professor Dr Suhaimi Napis, Head of the Industrial and International Grant Division, paid a visit on 6 April to Kyoto University's Graduate School of Agriculture (GSA), and met with the school leadership to discuss a range of issues of interest to both parties.
Among the topics were agreements for academic cooperation and student exchange signed between UPM and GSA in 2014. Dr Napis, GSA Dean Hisashi Miyagawa [PDF], Vice Dean Eiji Nawata [PDF], and International Committee Chair Naoshi Kondo reviewed joint efforts made thus far, and agreed to further strengthen the partnership.
Dr Napis also addressed organizational changes surrounding agricultural sciences at UPM. "The Faculty of Veterinary Medicine is expanding its activities and facilities, in close collaboration with the Faculty of Medicine, and they now have nearly as many researchers as the Faculty of Agriculture," said Dr Napis, explaining the shift in balance of academic workforce between faculties.
"On top of that, the university was renamed in 1997 from Universiti Pertanian Malaysia to UPM. 'Pertanian' means 'agriculture' in Malay. This change of name has been — not at all a problem — but a challenge for agricultural scientists at UPM," continued Dr Napis. He then made it clear that the multi-disciplinary nature of agricultural science remains intact and drives collaborative work in biotechnology, engineering, human ecology and agribusiness.
The hosts then gave an overview of Kyoto University and GSA. The Malaysian delegates showed interest in the Academic Center for Computing and Media Studies and the Institute for Information Management and Communication for their ICT studies and services, as well as the Center for iPS Cell Research and Application for its advanced technologies in regenerative medicine and drug discovery.
Kyoto University Research Administration Office (KURA) too attracted the delegates' close attention. "I think I have similar responsibilities to this office — constantly seeking new funding sources, while doing public relations work at the same time," said Dr Napis, noting that his division is part of the UPM Research Management Centre. "There is a growing need for research administration in Malaysian higher education as well."
Among programs available at GSA for international students, the one with ASEAN University Network spearheaded by Dr Nawata in particular appealed to the delegates, leading to a spirited exchange of views and ideas on internationalization.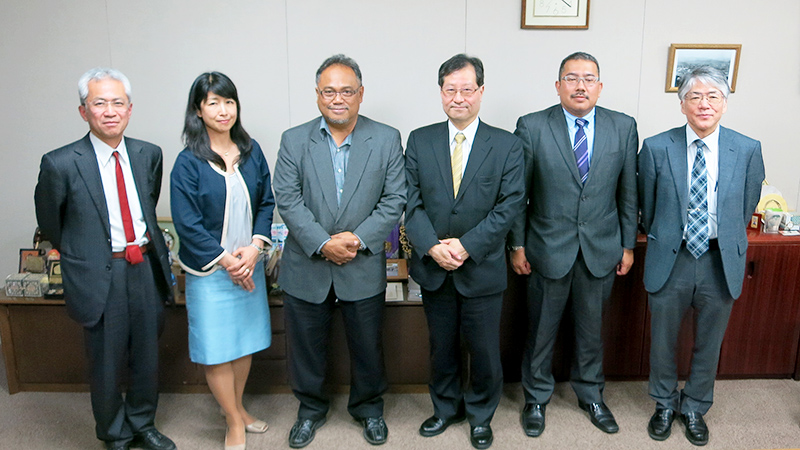 From left: Dr Naoshi Kondo, Ms Yuriko Tanaka from Malaysian Investment Development Authority (MIDA), Drs Suhaimi Napis, Hisashi Miyagawa, MIDA Director Zahirul Ishak, Dr Eiji Nawata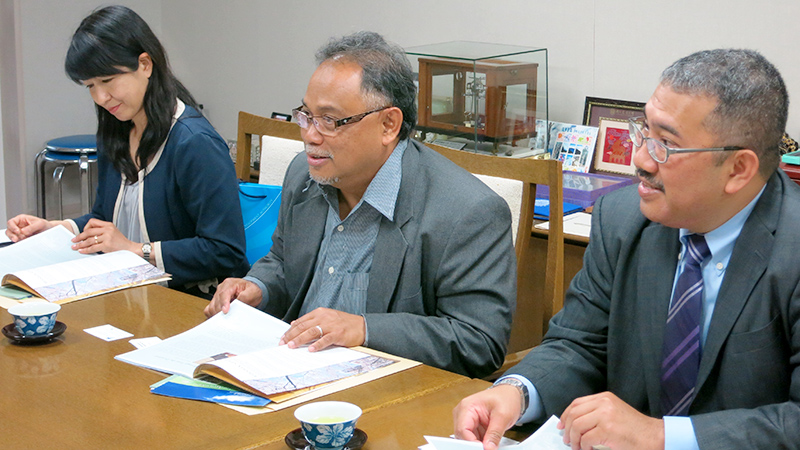 The delegates engaging in the discussion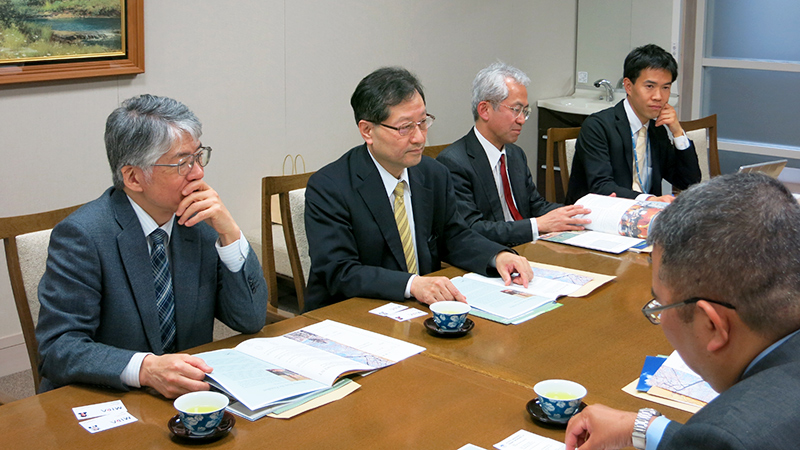 The hosts during the meeting