Lithuanian Agriculture Vice Minister and Chancellor Meet with GSA Senior Faculty for Discussions on Food Science & Technology Transfer
A Lithuanian delegation, led by Agriculture Vice Minister Saulius Cironka and Chancellor Dalia Miniataitė, visited Kyoto University's Graduate School of Agriculture (GSA) on 6 March, and met with the school's senior faculty members to discuss a range of subjects pertaining to food sciences.
GSA Dean Hisashi Miyagawa [PDF] and Vice Dean Eiji Nawata [PDF] gave an overview of the university as well as the school to the five delegates, who for the first time set foot on the campus in Kyoto.
GSA Professor Fumito Tani [PDF] then presented an outline of the school's Division of Food Science and Biotechnology, which he currently chairs. He also touched upon the KAGOME Tomato Discoveries Laboratory, a joint venture launched in 2014 between Kagome Co, Ltd and the school. The delegates were particularly interested in the cross-sector nature of the laboratory.
A lively Q&A session followed, in which the meeting participants addressed a broad array of issues around food sciences. The topics included recent trends in university-industry collaboration, patent applications associated with the technology transfer, and decision-making processes in research strategies.
Also present in the meeting were: the Permanent Representation of Lithuania to the EU Veterinary Attache Žilvinas Ilevičius, the Embassy of the Republic of Lithuania in Japan Attache Inga Miškinytė, and Japan Lithuania Exchange Center Director Kenjiro Tamaki.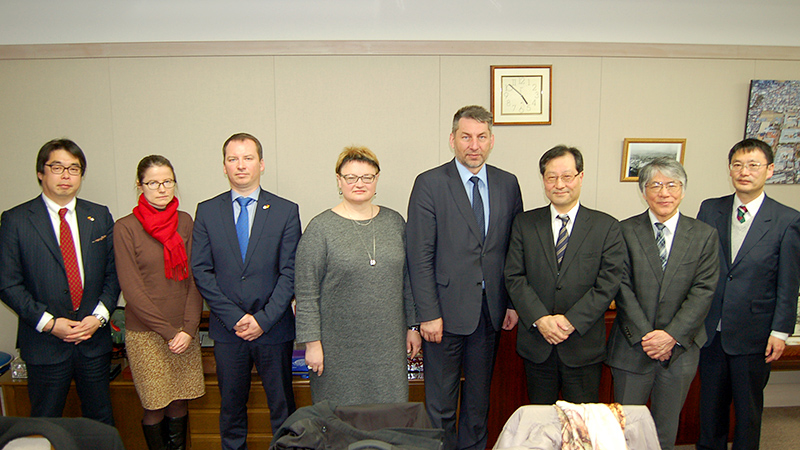 From left: Director Tamaki, Attache Miškinytė, Veterinary Attache Ilevičius, Chancellor Miniataitė, Vice Minister Cironka, Dean Miyagawa, Vice Dean Nawata and Chairperson Tani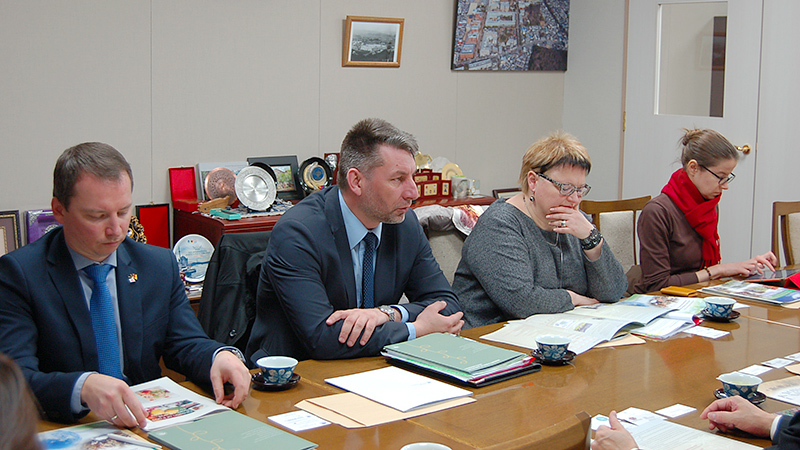 Vice Minister Cironka engaging in a discussion with GSA senior faculty members.