Chinese Vice-Consul and Zhejiang University Delegates Visit GSA, Seeking Input to Lab Management
Dr Sheng Hongqiang, Vice-Consul of the Chinese Consulate General in Osaka, and a Zhejiang University delegation led by Professor Lei Qunfang, Deputy Director of the university's Department of Lab and Equipment, visited the Graduate School of Agriculture (GSA) on 3 July to learn from GSA's practices in laboratory management, ranging from that of safety to quality to human resources.
The delegates' academic interests and backgrounds were as wide-ranging: energy engineering, chemistry, optical engineering, informatics, physics, biotechnology, medicine, animal sciences and pharmacology, on top of lab and personnel management.
GSA Dean Hisashi Miyagawa [PDF], Vice Deans Eiji Nawata [PDF], Hiroshi Amano [PDF] and Tohru Matsui welcomed the visitors with the dean's opening remarks, and Dr Sheng and Professor Lei also said a few words to thank the hosts.
Professor Naoshi Kondo then gave a talk on management practices in his bio-sensing engineering lab. The presentation centered around an intra-laboratory grouping concept, designed and implemented in the lab to develop problem-solving skills, share different viewpoints, and produce new ideas.
"This concept works best with academic freedom and a self-motivated learning culture in place, both of which Kyoto University and our lab have long upheld," said Professor Kondo, stressing the importance of such mindsets. "But knowing your goal is not enough. Know your group members' goals and help them achieve theirs for mutual learning. Share what you learned with other groups. Experiment together with your colleagues back in your group. The cycle can start from a one-on-one basis up to a departmental level. This is what I call a 'nested loop education system,' aimed for thorough data confirmation, multifaceted discussions, and less mistakes."
Associate Professor Yuichi Ogawa, Assistant Professor Tetsuhito Suzuki, and Research Fellow Han Shuqing, all from the Kondo lab, also explained day-to-day practices such as equipment booking, safety requirements, and animal experiment protocols.
The presentation was followed by a particularly lively Q&&session, thanks also to trilingual translation by Program-Specific Associate Professor Han Liyou, who joined the GSA hosts from Kyoto University's Organization for the Promotion of International Relations.
Zhejiang University and Kyoto University signed a general memorandum for academic cooperation and a student exchange agreement in 2003, the latter of which was concluded also between Zhejiang's Faculty of Agriculture, Life and Environmental Sciences and GSA in 2009. Ever since, the institutions have strengthened the ties through an array of collaborations, including spring schools, mutual visits, and Kyoto University Day, a two-day event held at Zhejiang University to showcase Kyoto University and give a briefing session on study in Japan.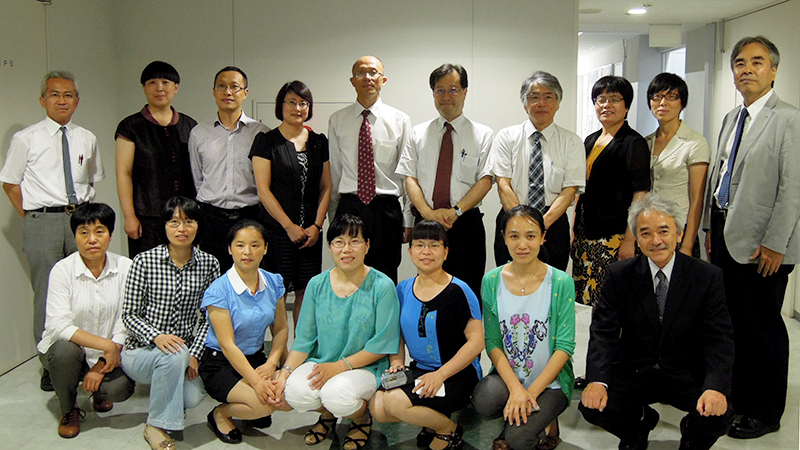 The hosts and the delegates, including Professor Lei Qunfang and Vice Consul Sheng Hongqiang (fourth and fifth from background left, respectively)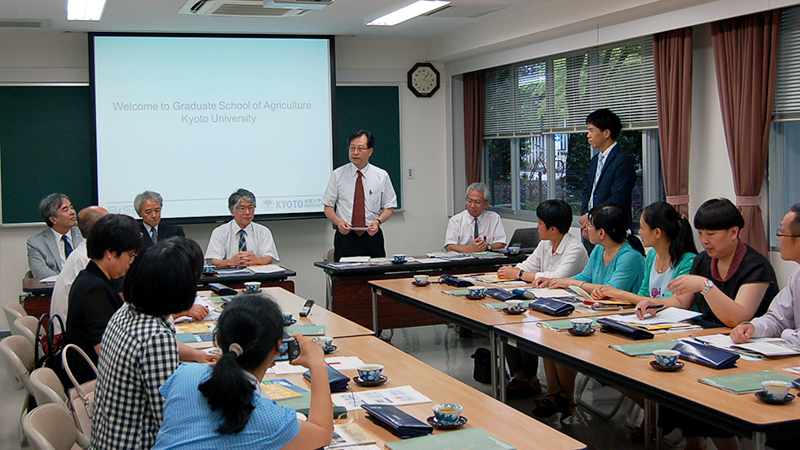 Dean Hisashi Miyagawa (center) delivering opening remarks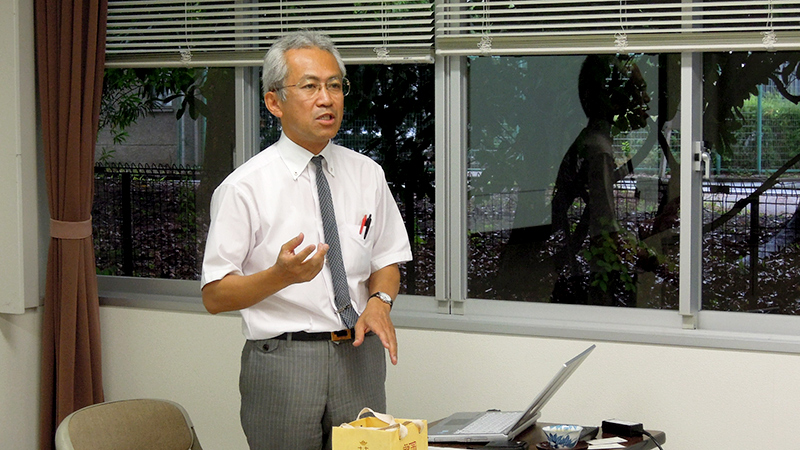 Professor Naoshi Kondo presenting his laboratory management practices