Special lectures by professional engineers commenced (May 28)
The Graduate School of Agriculture, Kyoto University, hosts a weekly seminar (from April 16 to July 30) to be presented by professional engineers from well known Japanese machinery companies to introduce innovative new product concepts and agriculture industry including the issues of life, food and the environment.
The sixth lecture on May 28 welcomed one of the top snack food companies in Japan. In the lecture, students were introduced to how potatoes are processed to produce potato chips as well as the online traceability system to ensure the safety and security of the products for the consumers. Tasting the sample products also brought a lot of excitement in the lecture room. 
Fully occupied lecture room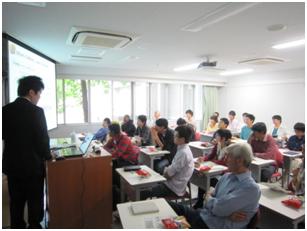 For more details about the lecture, please click here.