Kyoto University's Faculty and Graduate School of Agriculture provides education and undertakes research on a wide variety of subjects related to "Life, Food and Environment".
At this School we aim to improve the productivity of agriculture, forestry and fisheries, as well as to preserve the environment, in which such production activities are performed. The sciences covered range from a molecular to a global level, and deal with mechanisms of life, the balance of biological interactions in the environment, material cycling on the earth, and even human activities to sustain society.
We believe that through a better understanding of life, the outcome of our studies will be the development of new and outstanding pharmaceuticals, pesticides, industrial materials, functional foods and energy resources. An overview of the nature of the education provided by this School can be gained, in part, by browsing the series of Open Courseware lectures that are accessible from the University`s website.
It is vitally important that human beings secure sufficient food in order to lead spiritually rich lives, but currently there are many negative factors that we have brought upon ourselves, such as chemical contamination, salt accumulation, and soil erosion, which limit stable crop/food production. We must establish new agrosciences to realize sustainable food production systems, and our well-being.
In order to accomplish these aims, it is also important to nourish good international relationships. We have concluded academic and student exchange agreements with many universities throughout the world, and based on these agreements we are actively participating in numerous international collaborative research projects. In addition, we run an English-taught graduate degree program called "Special Course in Agricultural Sciences: For the Global Future of Life, Food and the Environment" for international students.
We have also started another international educational program with some ASEAN universities, which supports students earning a master's degree in two different fields from Kyoto University and its counterpart, with a shortened period by transferring credits between each other. We are also implementing various international student exchange programs. We hope these programs will help many international students to find more opportunities to study in Japan.
Eiji NAWATA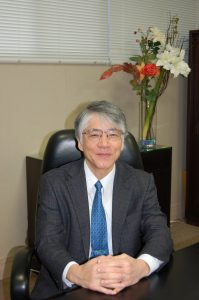 Dean and Professor
Faculty and Graduate School of Agriculture
Kyoto University