Indian Institutes of Technology Faculty Visit GSA, with Eye to Forming Partnership
Four faculty members of the Indian Institutes of Technology (IIT) visited Kyoto University's Graduate School of Agriculture (GSA) on September 24 to exchange ideas on civil engineering and its related fields, as well as explore the potential for academic cooperation.
The four represented four different institutes: IIT Bombay, Bhubaneswar, Hyderabad and Guwahati. These delegates were in Kyoto for the 14th International Conference of the International Association for Computer Methods and Advances in Geomechanics (IACMAG), and took this opportunity to meet with the GSA leadership.
The meeting was arranged by professors Naoshi Kondo, GSA international committee chair, and Akira Murakami in response to both parties' wishes to initiate a range of interactions.
Not only civil engineering, but were areas such as bio-sensing engineering, soil science, biochemistry, marine microbiology and environmental science the focal points of the discussion.
GSA dean Hisashi Miyagawa and vice dean Eiji Nawata also offered an overview on an English-taught master's/doctoral course in agricultural sciences as well as a new government-funded scholarship program for international students, both available at the school.
"Such courses would certainly be of interest to students at IIT, but shorter-term programs — say three to six months — would appeal even more," said IIT Bombay professor Devendra Narain Singh. "And that could be where an MoU comes in handy, to allow for flexible exchange planning." The delegates agreed to help identify the right institute-level partners to start with, such as IIT Bombay and Kanpur.
When asked about the key to draw the best and brightest from IIT: "technology," answered professor Singh, almost instantly. "On top of disciplines mentioned earlier, renewable energy, disaster prevention and stem cell technologies are becoming more and more vital, and Japan is a leading player in the fields. At the same time these are ongoing, serious issues to tackle for India and Japan alike," he continued, emphasizing the mutual benefit in the future collaboration.
Other delegates were: assistant professors B. Hanumantha Rao at IIT Bhubaneswar, B. Umashankar at IIT Hyderabad and Arindam Dey at IIT Guwahati.
The IACMAG conferences take place about every three years, since the first one was held in Mississippi, USA in 1972. Professor emeritus Fusao Oka at Kyoto University's Graduate School of Engineering and professor Murakami co-organized the 14th meeting at the Kyoto International Conference Center on September 22–25, 2014, attracting 450 attendees from 38 nations. Professors Murakami also gave a plenary talk, and Singh chaired a session on geoenvironmental engineering.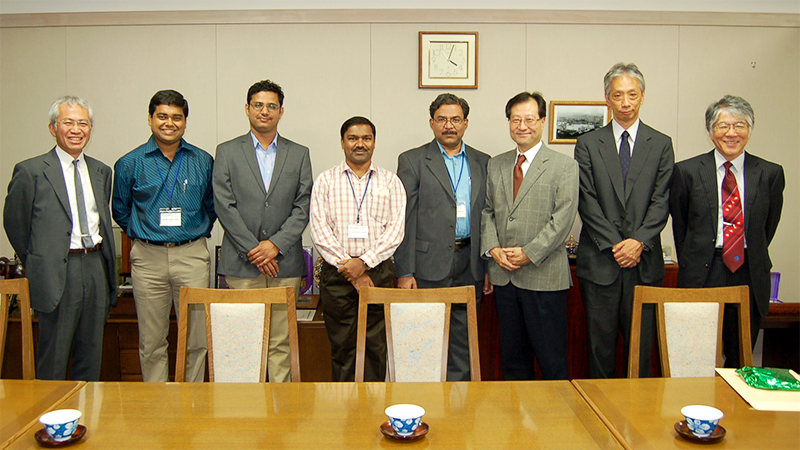 From left: GSA international committee chair Naoshi Kondo, IIT assistant professors Arindam Dey, B. Umashankar, B. Hanumantha Rao, professor Devendra Narain Singh, GSA dean Hisashi Miyagawa, professor Akira Murakami and vice dean Eiji Nawata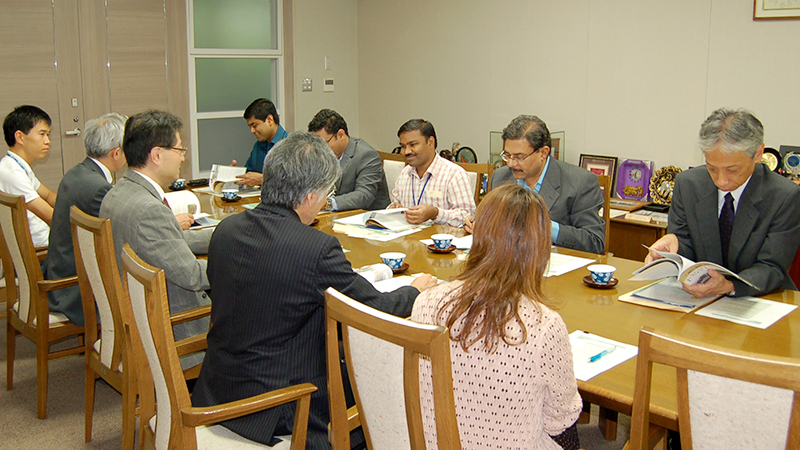 Hosts and guests engaging in a discussion on potential areas for academic cooperation